The Ten Survival Gear Essentials
The 10 Essentials You Need To Carry Every Time You Go Outside
Heading out on a day hike in a nearby wilderness? Planning a 2-week trek in the backcountry? Either way...
Don't forget the 10 survival gear essentials.
It's true, you likely won't use all of them—especially on shorter excursions. But when something goes wrong, being prepared with the 10 essentials will help make sure you don't die in the woods.
The Ten Essentials For Outdoor Survival
The classic ten essentials list was created by an organization called The Mountaineers. It originally started as a list of specific items but has since morphed into a "systems" based approach.
Let's have a quick look at each survival gear essential on the list and see how you can tailor it to your next outdoor adventure.
The 10 Survival Gear Essentials
Tips for Using the 10 Survival Gear Essentials
Apply the 10 essential "systems": Remember that the modern list of 10 survival essentials is a systems-based list. Before each outing, don't forget to take a moment to review the essential systems and make sure you have what you need according to the risks you'll encounter.
This 10 essentials list shouldn't be your main packing list: Your main packing list, especially for extended trips, will likely go beyond the 10 essential systems. The 10 essentials list serves to remind you of what's most important in survival situations so you can pack the right backups or extra gear.
Make your own 10 essentials kit: If you tend to take a lot of the same types of trips, save time by making your own 10 essentials kit. That way you can just throw it in your bag while you're packing. This is especially nice if you take a lot of day hikes in remote areas.
Use the 10 essentials to plan your bug-out bag: Since this is a systems-based list, you can even apply it when preparing a go-bag or bug-out bag in case of emergencies at home.
Get quality gear: When outfitting your gear or survival kit with the 10 essentials, it's worth it to get quality gear that won't let you down. Your life is literally depending on these items. If you want to save some money, go the budget route on other non-essential gear items (like beer and pizza 😜).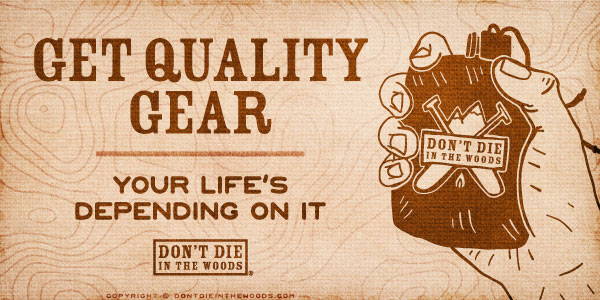 ---
#1
Navigation
Possible items for your navigation system: Map, compass, phone, GPS device, PLB (personal locator beacon), satellite messenger
Why it's important: Ensures you always know where you are and how to find safety.
Unless you're taking a short hike on a well-marked and well-traveled footpath, having something to help you navigate is essential. For short day hikes, this could mean a simple paper map or your phone with GPS, downloaded maps of the area, and more than enough battery life.
If you're using your phone, always be sure to go into whatever maps app you use and download maps for the area you'll be visiting. Even if you end up in a dead zone with no data, you'll still be able to navigate.
DON'T FORGET - GPS uses up a lot of battery life so don't forget to bring a small power bank. And electronics and water don't play well together. You need to waterproof your electronics. A good 'ole Ziploc bag works great.
For longer outings in more remote areas, always bring more than one way to navigate — your main navigator and a backup.
Maybe you're relying on a GPS device like a Garmin. Sure, it's somewhat rugged. But a bad spill down a rocky slope can render even the most rugged electronics unusable.
If you're prepared with a backup — like a paper map and compass — you won't end up getting lost.
Good options for your navigation essentials system:
Popular Navigation Apps (Aside from Apple and Google maps)
---
#2
Illumination
Possible items for your illumination system: Headlamp or flashlight
Why it's important: Have you ever been in the woods at night? It gets really dark.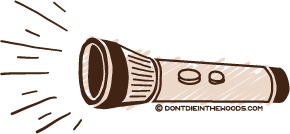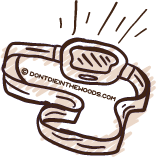 If you're heading out on a long day hike, throw a mini flashlight in your pocket or day pack. Plenty of day hikers have ended up spending the night in the wild because of making a wrong turn on the trail or getting caught in bad weather.
*Check out our article on the Most Important Survival Skill to read about three stories where that exact thing happened.
While a slim flashlight might be ok as a backup, like 97.6% of the time a good headlamp is the best choice. Since a headlamp gives you hands-free illumination, nighttime tasks around camp are almost as easy as they are in the daytime. (Ever try doing your business in the woods at night while trying to hold a flashlight at the same time? 😬😬😬)
And since illumination is one of the 10 essentials, don't forget extra batteries and a backup!
Good options for illumination essentials:
---
#3
Sun Protection
Possible items for your sun protection system: Sunglasses, sunscreen, hat, other sun-protective clothes
Why it's important: Protect yourself from serious sunburn, sun poisoning, and snow blindness.
It's easy to know you need sun protection when you're packing for a day at the beach or hiking on sunny summer days in areas without a lot of cover. Still, it's important to double-check that you have packed enough protection, especially if something were to go wrong and you end up spending more time in the sun than you planned.
Look for sunglasses with UVA and UVB protection. Traveling in snowy areas? Don't forget your glacier glasses. And if you're traveling as a group, make sure there's at least one pair of extra sunglasses among you just in case someone loses theirs.
Just like the sunglasses, choose a sunscreen formula that blocks UVA and UVB rays. Go with something that's at least SPF 30. Slather it on generously and then reapply as needed.
Even in warm weather, it's best to go with lightweight, sweat-wicking clothing that covers as much of your skin as possible. Add a full-brim hat and you've got your face and neck covered too.
Good options for sun protection essentials system:
---
#4
First Aid
Possible items for your first aid system: From just a few bandages and antiseptic wipes to a complete first-aid kit.
Why it's important: Keeps you and your group safe in emergencies.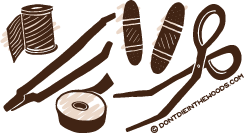 Heading out for a day hike in a moderately traveled area? Take along a basic first aid kit with an assortment of bandaids/bandages, a disinfecting wipe or two, and some antibiotic ointment. That should be enough to handle most basic cuts and scrapes.
For longer or more dangerous adventures, you need a more comprehensive first aid kit with supplies for:
Small and large wounds
Burns
Insect bites
Blisters and foot care
Common medications
Fracture/sprain care
Important! - Having a first aid kit isn't enough. You have to know how and when to use what's in it. So don't forget to brush up on your wilderness first aid skills .
Learn about a variety of wilderness first aid skills from forearm splints to pelvic wraps in this series of videos from National Outdoor Leadership School.
Good options for first aid survival essentials system:
---
#5
Tools
Possible items for your tool system: Knife, multi-tool, repair kit, or activity-specific tools like a bike tool kit
Why it's important: Tools help you get stuff done. Ever try cutting paracord without a knife?
Let's be honest...we all should have a pocket knife or multi-tool within reach pretty much 24/7. They're handy for food prep, first aid, cleaning a fish, fixing your car, or opening a bottle of beer.
And for extended trips, your tool essentials should include some kind of repair kit. Create your own general outdoor repair kit with:
Duct tape (something else we should always have within reach 😜)
Paracord
Safety pins
Zip ties
Sewing kit
Small bottle of adhesive (like super glue, Gorilla glue, or a small tube of epoxy)
Depending on your gear and planned adventures, you should also consider more specific repair items like:
Tent repair kit
Repair patches for a sleeping pad, air mattress, or raft
Repair buckle
Bike repair kit
Mesh patches
Good options to add to your tool essentials system:
---
#6
Fire Starter
Possible items for your fire starting system: Waterproof matches, lighter, ferro rod, firestarters, stove
Why it's important: Fire gives you light, keeps you warm, cooks food, and basically makes an unexpected night (or nights) in the woods not as dire.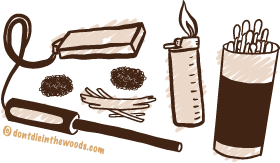 Make sure you have a reliable way to start a fire. A regular pack of matches or a lighter you get at the counter of your local gas station won't do the trick. You need something that you can depend on in the rain, snow, cold, wind...whatever. Most carry a small, quality lighter or two as well as some waterproof matches and a flint & steel as backups.
In addition to a flame, it's smart to also carry some firestarters that can help you get a blaze going in wet conditions. You could bring store-bought fire-starter tabs, chemical packets, or a DIY version like cotton balls soaked in petroleum jelly.
But what if you're just going on a day hike? Do you really need a way to start a fire?
Hopefully not, but plenty of day hikes have turned into several days lost in the wilderness. A small ferro rod takes up virtually no space in your day pack, so you might as well bring it along. Or you can opt for a survival knife or multi-tool (like the ones mentioned above) with built-in ferro rods so you'll never be without this essential.
But starting a fire with a ferro rod can be tricky. So check out this in depth video with some pretty cool tricks from the Gray Bearded Green Beret. Even if you've started fires like before, you'll probably learn something new.
Good options to add to your fire essentials system:
---
#7
Shelter
Possible items for your shelter system: Emergency bivy, tarp, space blanket, tent, sheet of plastic
Why it's important: Exposure to the elements can kill.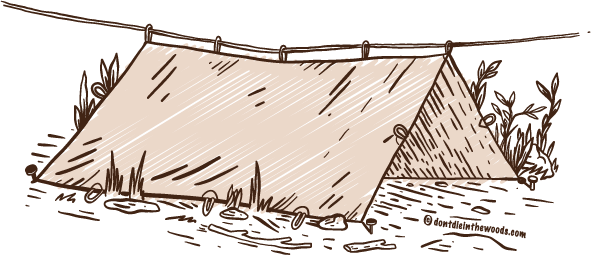 Your essential shelter should be a place where you can get out of the wind and rain while trapping some body heat.
While backpacking, some might consider their main backpacking tent to be their essential shelter. Still, it's good to have a backup emergency shelter. This is especially true if you plan on venturing away from camp for a day hike.
Remember, your tent is only part of your 10 essentials if you have it on you at all times!
Good options to add to your shelter essentials system:
---
#8
Extra Nutrition
Possible items for your nutrition system: No-cook items that are calorie-dense (nuts, granola bars, jerky, dried fruit)
Why it's important: Survival situations are hard enough. Low blood sugar and no energy makes them even harder.
Always bring along some extra food. If it's just a day hike, throw in an extra pack of trail mix or a few more granola bars. For multi-day trips in remote areas, pack at least an extra day's worth of food. You want to be prepared in case bad weather or an injury add a day or two to your trip.
Good options for your nutrition essentials system:
Too many to list...you know what you like. Just make sure it's no-prep and calorie-dense.
---
#9
Extra Hydration
Possible items for your hydration system: Extra water, purification tablets, survival filter
Why it's important: You can potentially survive for weeks without food but just a few days without water.
For a day trip, pack an extra bottle or two of water and make sure you have a small survival straw or pack of purification tabs. For longer treks when you're already bringing a water filter, you need a backup way to purify your water.
DON'T FORGET - If you're planning on treating water on the trail, do research beforehand to where you can get water. And if you're traveling in dryer areas, be especially thorough with researching the conditions of the water sources for the time of year you're traveling.
You could rely on boiling your water as a last resort. However, that takes up a lot of fuel or means you have to start a fire anytime you need to purify more water. That just adds more complication and stress to an emergency situation.
You can't get much easier than a survival filter straw that fits on the end of a water bladder or a small pack of chemical purification tabs.
*Beer is technically hydration, so...I guess it's considered one of the essentials. Always bring a backup 🍻😋.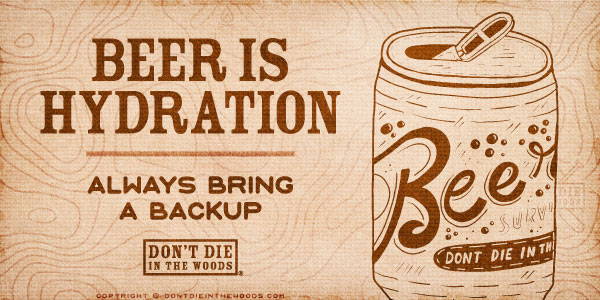 Good options to add to your hydration essentials system:
---
#10
Extra Clothing
Possible items for your clothing system: A jacket, hat, gloves, insulating layer, full change of clothes
Why it's important: Conditions can change unexpectedly.
Depending on when and where you're spending time outside, you should be adequately prepared for a change in conditions.
Example…
Planning a late-summer hike in an area like Moab or Arches National Park? It's the desert, right...hot and dry. Why do I need extra insulation?
Get lost or sprain an ankle and you could end up spending a night in the desert. In a high desert area like that, temperatures can drop 40 degrees from the midday highs. Plus, late summer there is notorious for violent storms and flash floods. You'll be glad you were prepared with an extra jacket and emergency blanket.
So don't forget to check the weather forecast and history for the area you'll be visiting. Think...what would I need to survive being exposed to some of the worst possible weather for that location and time of year.
Good options to add to your clothing essentials system:
There are so many options we could list. A lot depends on when and where you're traveling, plus your personal style. You should at least check to see if you need items like these.
Rain protection (could be an extra rain jacket or a simple poncho)
Jacket for wind & rain protection or for extra insulation
Hat for sun and/or cold
Gloves
Appropriate footwear (you likely won't hike with an extra pair of boots, but you can bring a small repair kit...remember the Tools section)
---
In Summary
Bring the 10 Essentials — Don't Die in the Woods
For anything more than a short hike in a well-traveled area, you NEED to think about the 10 survival gear essentials. Hopefully, you'll never have to use them. But if you spend enough time outdoors, eventually you're gonna find yourself in a "sticky" situation and you'll be glad you were prepared.
Learn more about preparation and why it's the KING of all survival skills in our article: The Most Important Survival Skill
Visit the Don't Die in the Woods store to add to your shelter essentials system with our FREAKIN' awesome survival shelters, blankets, and bivies.